Sports
Mayank's double century puts Karnataka in command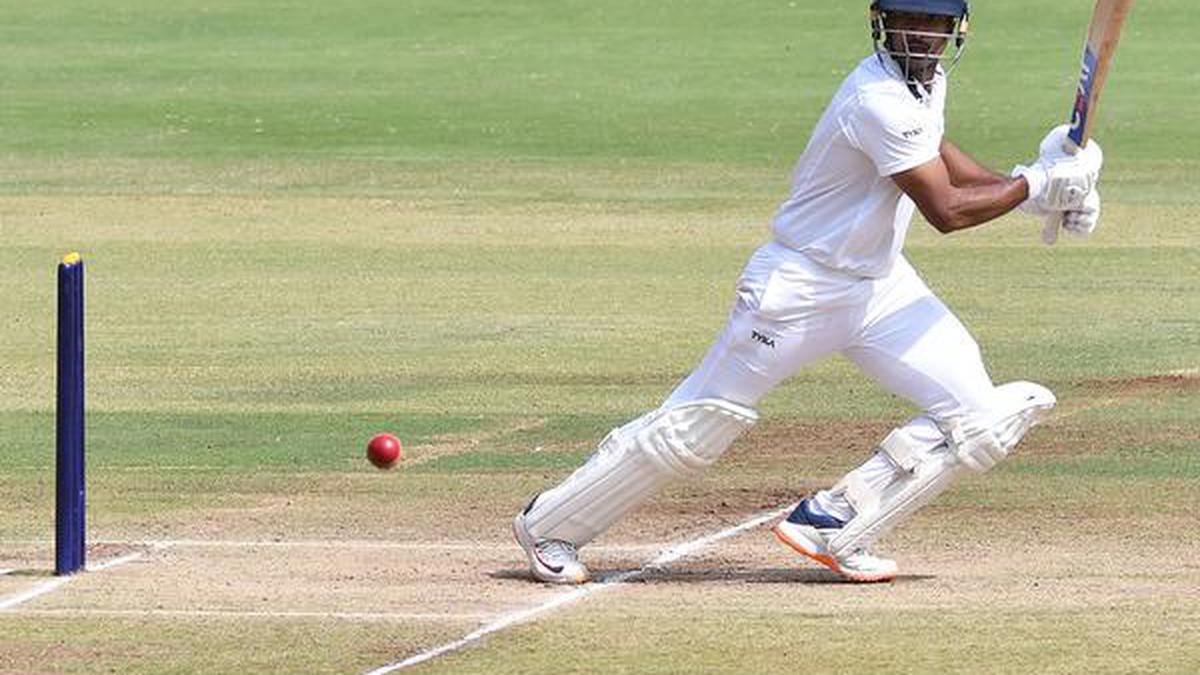 A file photo of Mayank Agarwal. Karnataka skipper Mayank Agarwal mastered the pitch to tame the Kerala attack and put together a double century (208) that put Karnataka in the lead at the end of the fourth day's play in the Ranji Trophy cricket match against in Kerala at KCA-St. Xavier's College ground, Thiruvananthapuram on Thursday. | Photo Credit: SUDHAKARA JAIN
Karnataka skipper Mayank Agarwal mastered the pitch to tame the Kerala attack and compiled a double century (208) that put Karnataka in command at the end of the fourth day's play in the Ranji Trophy cricket match against Kerala at KCA -St.Xavier's College ground here on Thursday.
Karnataka took a 68-run first innings lead after ending the penultimate day on 410 for six. With unusual spin and bounce of the ball, Karnataka will fancy its chances of forcing a win on Friday. At stumps, wicketkeeper BRSharath was hitting 47 and Shubhang Hedge was unbeaten on eight.
It was a long day for Kerala who failed to seize the opportunities and allowed the Karnataka batters to dominate them. Shoun Roger failed at first slip in a sharp chance when Mayank Agarwal, on 168, edged Akshay Chandran and later wicketkeeper P. Rahul missed a stumping from Sharath when the batter was on 18 off in Vaisakh Chandran. Both batters made Kerala pay for the left offs.
In the morning, Mayank and Nikin Jose used their feet to stop the spin and put away bad deliveries for boundaries. Mayank met Jalaj Saxena early in his spell, deposited the off spinner over long on for a straight six and followed it up with an on driven four.
Nikin Jose finds his touch to complete his half century. However, Kerala made it two in a row before lunch as Akshay forced Nikin to hit a catch for a shout at first slip and Jalaj removed Manish Pandey for a golden duck as the batter was caught at leg. slip
Mayank after grafting for the major part of the second session suddenly changed gears and hit Nidheesh with a six and two fours to move from 185 to 203 in just six balls. Vaisakh ends Mayank's stay as the batter edges him at short leg.
There was a noticeable drop in the scoring rate after Mayank's dismissal as only 70 runs came in the post tea session which also saw the dismissal of Shreyas Gopal caught at short leg for 48.
Scores
Kerala-Ist innings: 341
Karnataka-ist innings: R. Samarth b Vaisakh 0, Mayank Agarwal c Vathsal b Vaisakh 208, Devdutt Padikkal b Nidheesh 29, SJ Nikin Jose c Shoun b Akshay 54, Manish Pandey c Kunnummal b Jalaj 0, Shreyas Gopal c Vathsal b Jalaj 48, BR Sharath batting , Shubhang Hegde batting 8
Extras (nb 2, b 11, lb 3): 16
Total (for six weeks in 137 overs): 410
Fall of wickets: 1-0, 2-91, 3-242, 4-243, 5-336, 6-378
Kerala bowling: Vaisakh 30-4-87-2, Nidheesh 27-5-76-1, Jalaj 35-2124-2, SIjomon 27-3-77-0, Akshay 18-4-32-1.