Sports
Rahm began to look the part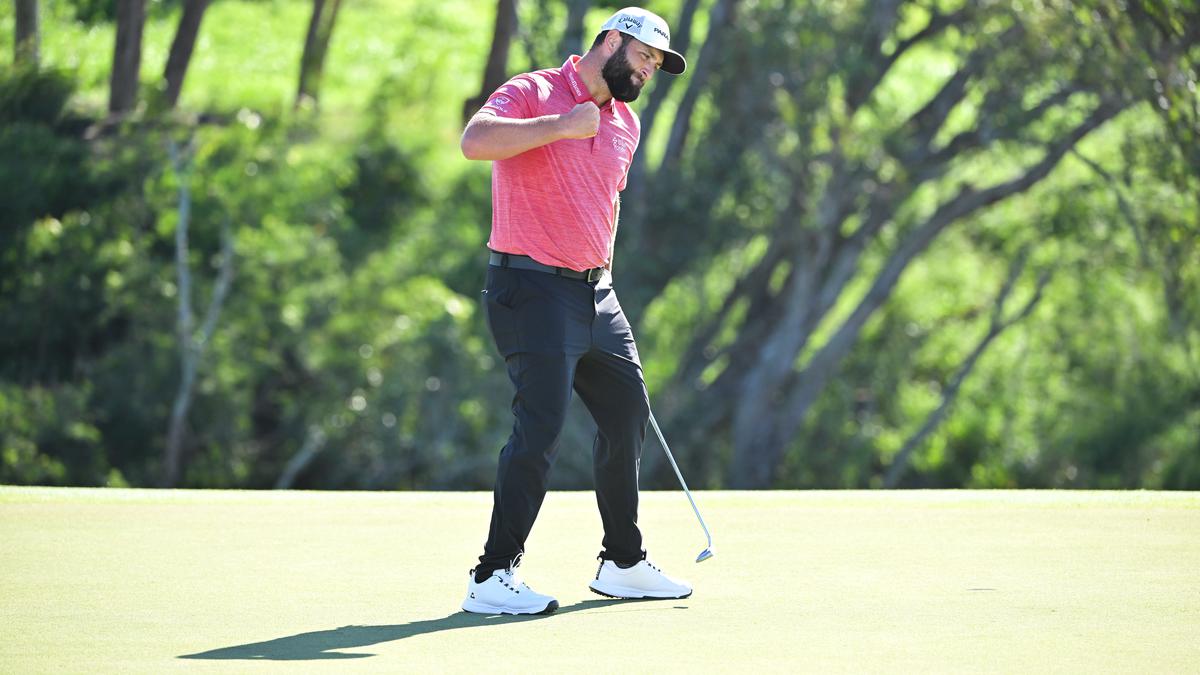 Focus and chill: Rahm's strong run of results in recent months is the result of a more relaxed putting approach.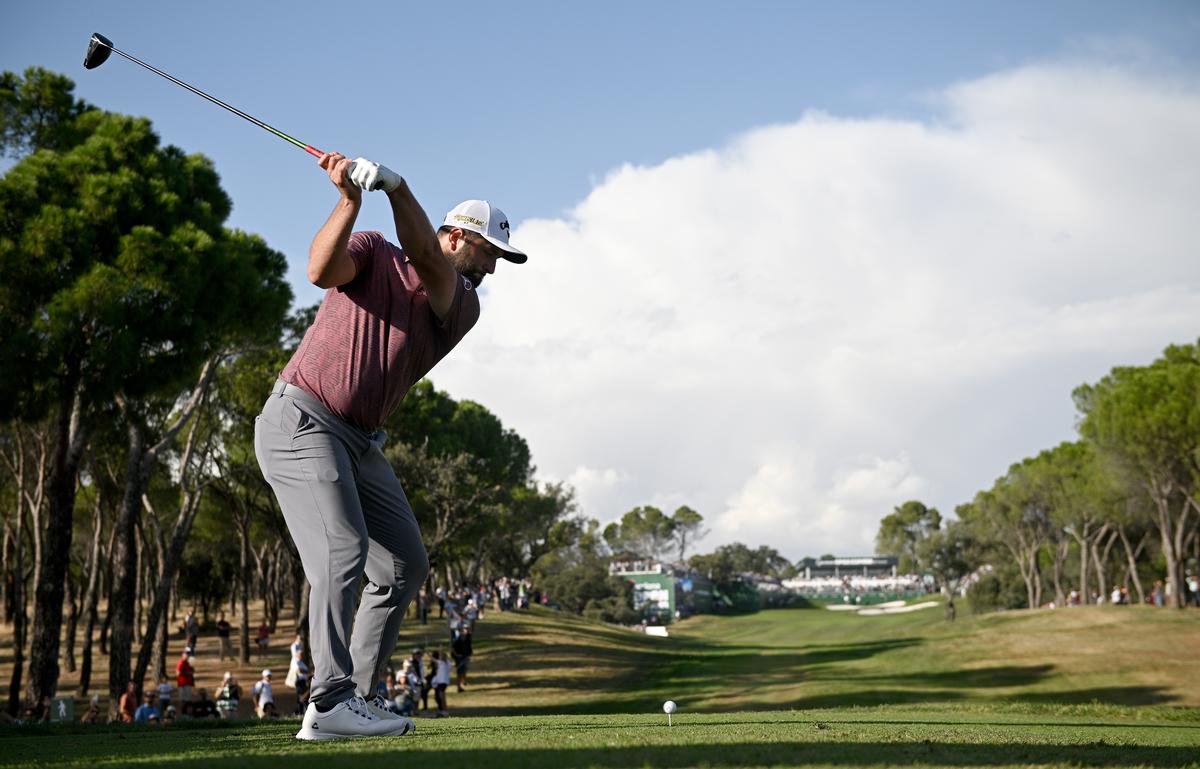 Aiming high: After last year's disappointment at the Majors — he failed to register a single top-10 finish — Rahm is determined to capitalize on his form at the big events in 2023.
Jon Rahm plays like the best golfer in the world and dresses like one of the greatest of all time. The 2021 US Open champion won the Sentry Tournament of Champions in Hawaii last weekend with a comeback for the ages, overhauling Collin Morikawa's seven-shot lead in the final round. And he did it in red and black, a combination of Tiger Woods for Sunday's title claim.
While the quality of Rahm's play was not an accident, his sartorial choice in Hawaii was. He forgot to bring all his belts, forcing him to change clothes at the last minute; it made an impression that after the victory, he spent more time talking about his approach to choosing clothes than his approach to shots on the green.
"Normally I don't want to wear anything close to red with black on Sunday because of Tiger. His outfit," said Rahm. "That's why I usually wear gray or navy. But you want to know the honest truth? I forgot almost all the belts I was supposed to bring.
"That's why I had a navy belt and a black belt. And I said [wife] Kelley, 'I won't be as hot all week wearing black pants and a darker shirt, very navy.' Then I went on Sunday and I just didn't want to wear navy. I forgot my belts, that's all."
Rahm certainly delivered a performance to match the famous combination, turning tables in an hour at the Plantation Course in Kapalua on Sunday as Morikawa exploded. Even if it's a victory Rahm didn't see coming, it's a statement victory.
Hot streak
It continues his hot streak of form: the Spaniard now has three world wins from his last five tournaments. Having also won the Spanish Open and DP World Tour Championship, the former World No. 1 hopes to move up the rankings, somehow surpassing Patrick Cantlay in fourth place. But he still sits in fifth place.
After describing the revised world ranking system as "ridiculous" last year when priority was placed on field-depth over the range of participating players, Rahm, who believes he is currently "the best player in the world", asked the system again.
"If they don't change the world ranking points [system]I would have been pretty close [to No. 1] just now," he said. "But in my mind, I feel like since August I've been the best player in the world. Earlier in the year, obviously Scottie [Scheffler] is that player, then Rory [McIlroy] that player, and now I feel like it's me."
McIlroy remains at the top of the rankings followed by Masters champion Scheffler, Open winner Cameron Smith and Cantlay. But Rahm's performances suggest he is ready to add to his trophy case — especially the big ones that will accompany his only Major title, the US Open at oceanside Torrey Pines two years ago.
He was most disappointed in not registering a top 10 in any of the Majors in 2022. But since last August, at the start of the PGA Tour's postseason, Rahm has played nine times around the world and finished from the top 10 only once. The win in Hawaii means he now has a title in each of his seven full years on tour, an impressive record for someone just 28 years old.
Early commitment
Born in the small coastal town of Barrika in Spain, Rahm showed early promise that he attended Arizona State University on a golf scholarship and became the World Amateur No. 1 in 2015. However, not everyone recognized his potential.
His future wife, Kelley, who played tennis as a junior and threw the javelin at Arizona State, didn't think Rahm was good at clubs. "I thought he was very far from the team, like one of the worst players," he said. "He never talked about golf. His roommates were always talking about how they ended up. I just thought they were all better than him."
By the time Kelley showed up to his first golf tournament, Rahm had already won the Ben Hogan Award as the best college player in the USA, but he didn't know it! He arrived with a girlfriend of another Arizona State player and asked the mother of a UCLA player for directions.
"We were like, 'We're looking for two people, my friend's girlfriend and the other one is, well, you won't know him, but his name is Jon Rahm,'" Kelley said. "He was like, 'Honey, he's so good. He might win the tournament.'"
Rahm tied for fourth that week and it didn't take long for Kelley to learn that her husband, who became the first player to win a second Ben Hogan Award in 2016, was very good indeed. His tally of 11 college tournament wins is second only to Phil Mickelson's 16.
Rahm announced himself on the world stage in 2020, becoming the first Spaniard since Seve Ballesteros in 1989 to hold golf's top ranking, winning the US PGA Memorial tournament. But he is now a significantly better player than when he was No. 1.
Treatment of flatstick funk
There were questions about his short game, with one writer even describing Rahm's pitching problems as "flatstick funk" in March 2022. But Rahm has since answered those questions.
"If you look at the numbers, I think the main difference is I'm a little bit more accurate with my approach shots but mainly making putts," he said. "I became more comfortable with my putting. It's almost as good as ever.
"Sometimes when you're doing something and it's not going well, I can pay too much attention to it and I can think too much about what's going on with the putter, [but what has worked is] relaxing and moving away from being too technical and more about putting as an art."
Fiercely competitive and strong under pressure, Rahm has the potential to invest the next few years in the Majors, but he's focused on the present. "We all want to break a lot of records, but you have to take it week by week," he said. "All I can say is I'm going to try my absolute hardest every day of the year to be the best golfer I can be. And that's all I can do, period."